Rockstar

Greetings and Happy Holidays to all the wonderful songwriters and composers around the world. We truly appreciate you in our musical lives, and ours in yours!
And welcome to another edition of Songsalive! Songnotes > our monthly newsletter for everything you need to know about the craft and business of songwriting.  In this edition, we talk about our Members' Songsalive! Backstage go a new makeover, as well as RSVP for January 15th Songsalive! Song Critique Workshop (Song Sessions). We also have some Song Leads to whet your musical appetite (what about a fancy song cut or synch to end the year hey?) All below, read on!

---
Songsalive! Backstage is getting a makeover
For our Members, we hope you have been enjoying our awesome Songsalive! Backstage Portal which is also a Mobile app which gives you many opportunities as a songwriter/composer, including a main feed to post in the community; Songshop to pitch songs to leads in tv, film and advertising; Watch 24/7 videos-on-demand of our Master Teachers/Guest Speakers from the Music Business; get song critiques any day of the week from your songwriter peers.. and so much more.  You may have noticed a few changes on the Backstage Portal. Our hosting site, Mighty Networks, has made some internal changes to their software design, which included rolling out a new feature called 'SPACES' on all their community pages. Feel free to watch this video from our App Hosts, Mighty Networks to learn more. With this update, the layout of our Backstage portal has changed but all of our previous content, posts, and groups are still there!
So What's Changed on Songsalive! Backstage with 'SPACES'?
👉 Your Navigation Bar in the Songsalive! Portal has a few more additions - login to members.songsalive.org and find your navigation bar on the left. Note: You must be a Songsalive! Member to access the Backstage Portal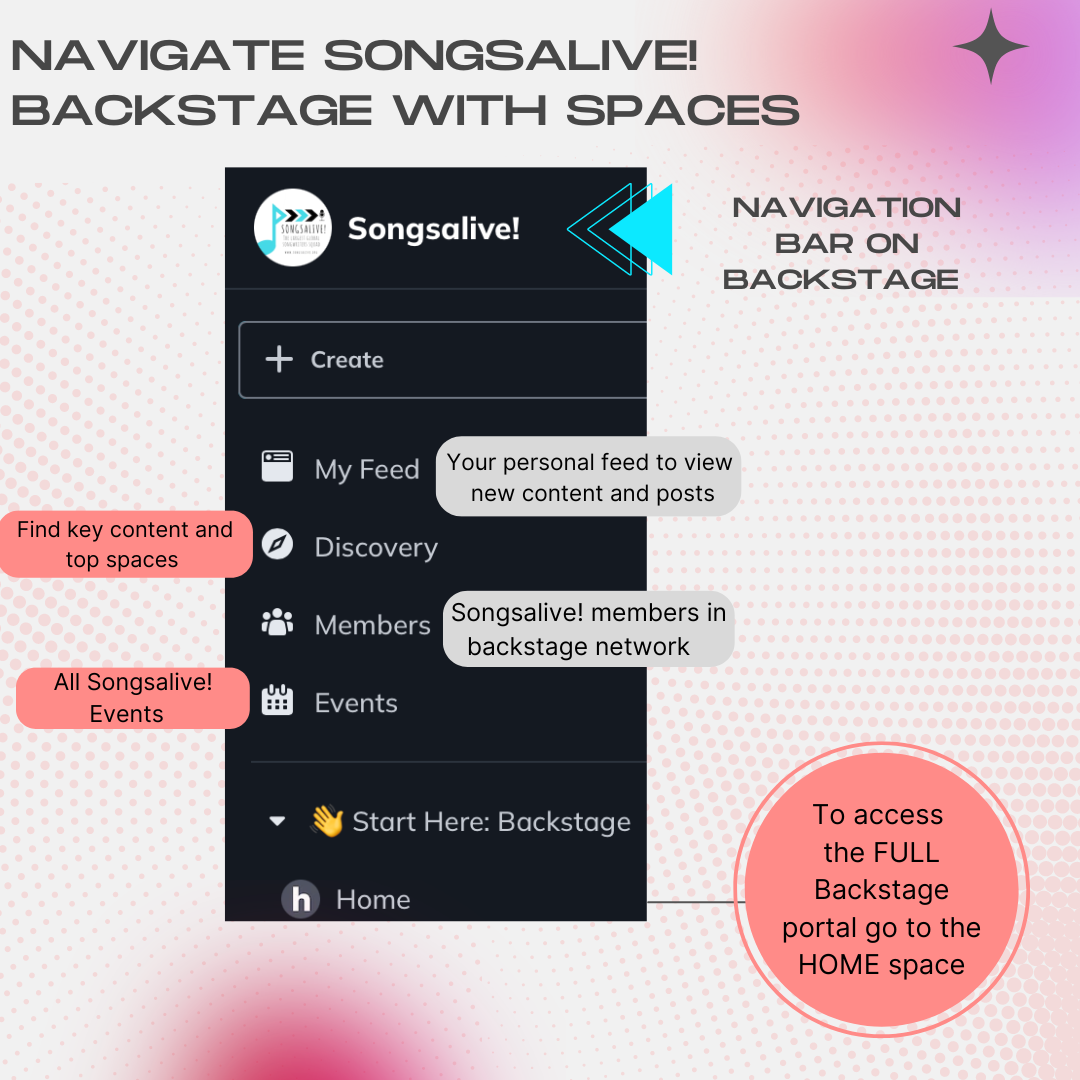 👉The HOME Space is our community and resource hub where you can interact and chat with members, make posts to the community, and find all of our content and resources (i.e. songshop leads, Songcraft videos, etc). 
👉 Engage in the HOME Space with #Hashtags - Find your favorite content (i.e. songshop leads, Songcraft videos, etc) and make posts in the HOME space using Hashtags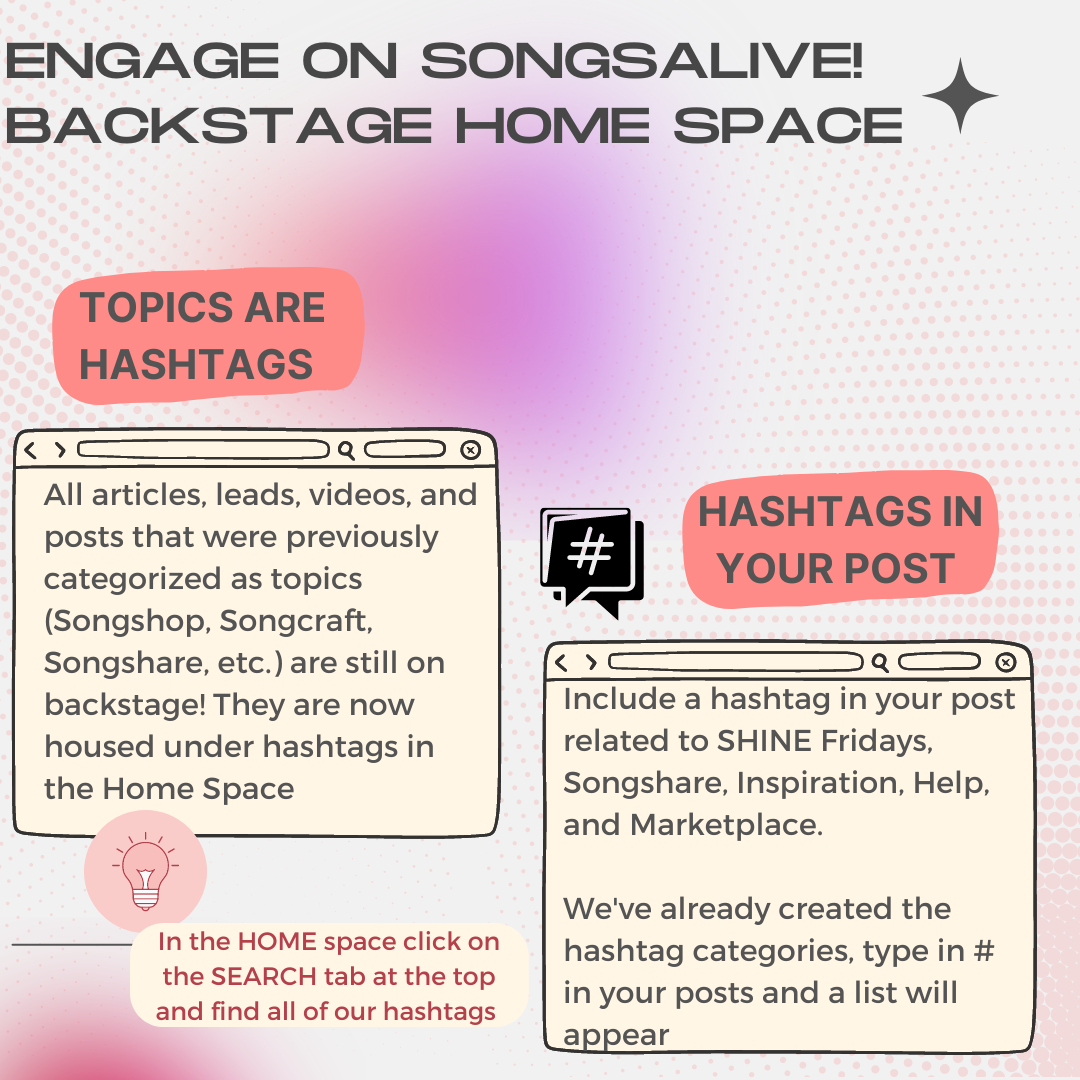 If you have questions, having trouble navigating the portal, or want to give us some feedback on the updates, reach out to a team member on Backstage for more support.
Virtual event THIS SUNDAY January 15th 2022 10AM PST

Join from anywhere in the world in the comfort of your home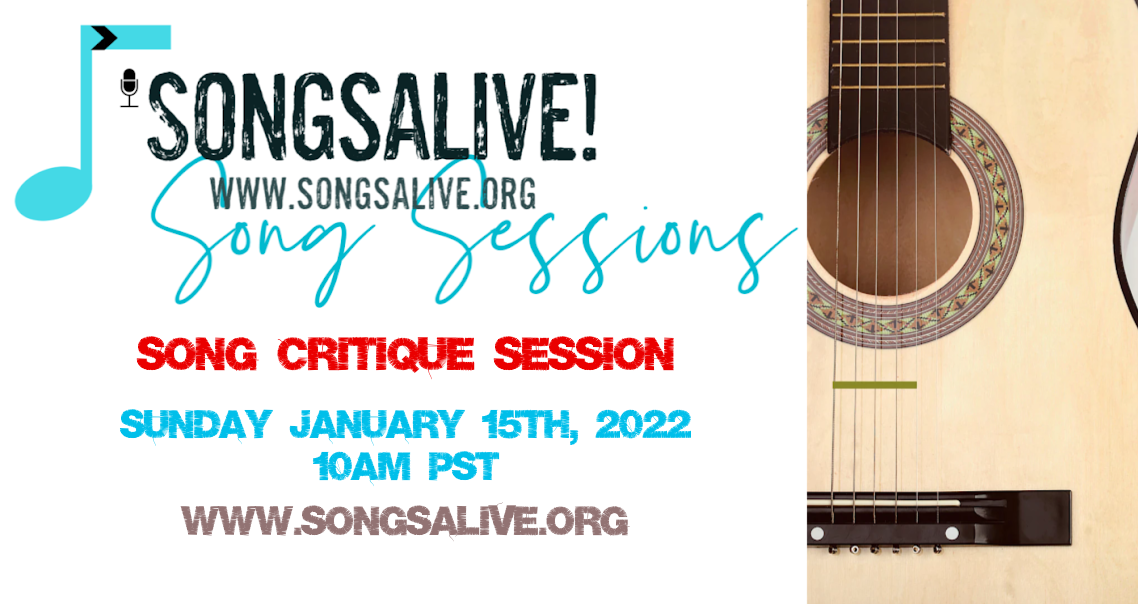 Join us Sunday January 15th for our January Virtual Song Sessions, get your songs critiqued/workshopped in an intimate, safe online environment, with songwriters from all corners of the globe.
Be Sure to RSVP under EVENTS https://members.songsalive.org/events THIS IS A VIRTUAL EVENT! Attend in the comfort of your home via Zoom. Participate from anywhere in the world. (* Check your local timezone here)
This event will offer a Song Critique Session - focusing on in-the-round song critique where Songsalive! and each other provide feedback and positive critique, sharing insights on how to take your song to the next level. Come ready with your songs for critique and feedback! 
COST: Free for Songsalive! Members.
RSVPs and details are only available at Songsalive! Backstage for Members
---
 Songshop
We're always looking for great songs and songwriters to fill some pitches. Here's a taste of what's backstage...



Tap on HOME  > Click SEARCH at the top of the page 
---
Grab Our Swag - Wear Songsalive! 

Support our 501c)3) Non Profit organization and buy a t-shirt or hoodie. All donations are tax-deductible. 
---
Members of the month
Top members of December - Continuing in the tradition of calling out our Members who achieve the highest engagement in our Backstage are, ..... drum roll....


 Keep up the great community engagement!
You could land here if you regularly visit our Songsalive! backstage and engage with your fellow songwriters. 
Welcome New Songsalive! Members