Rockstar

Greetings to all the wonderful songwriters and composers around the world. And welcome to another edition of Songsalive! Songnotes > our monthly newsletter for everything you need to know about the craft and business of songwriting. 

---
Virtual event THIS SUNDAY September 25th 2022 10AM PST

Join from anywhere in the world in the comfort of your home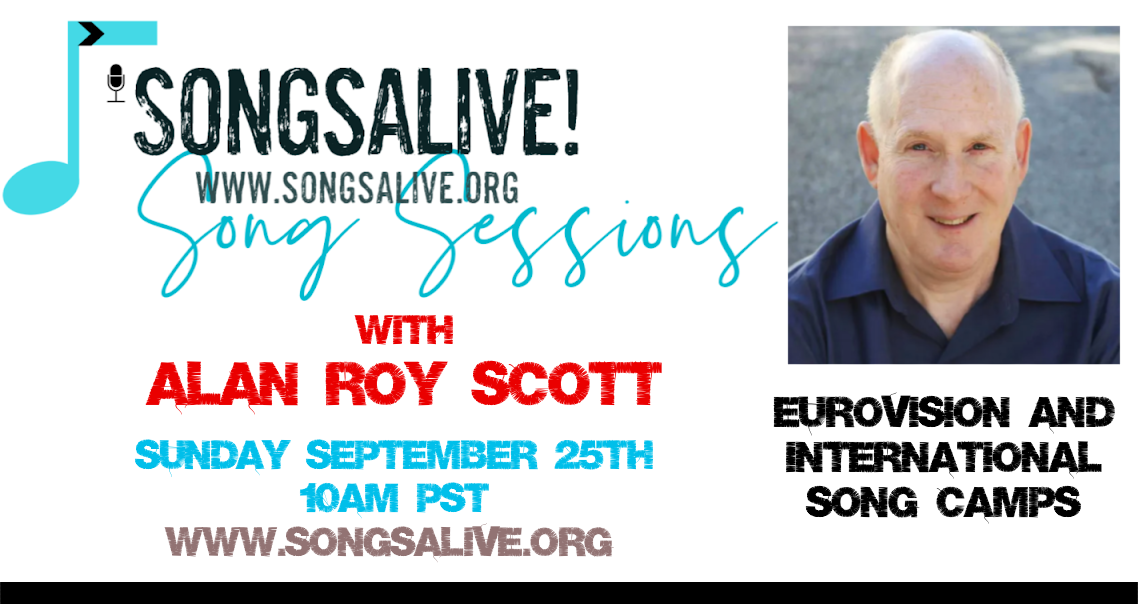 Join us This Sunday September 25th for our September Virtual Song Sessions, get your songs critiqued/workshopped in an intimate, safe online environment, with songwriters from all corners of the globe.
Be Sure to RSVP under EVENTS https://members.songsalive.org/events THIS IS A VIRTUAL EVENT! Attend in the comfort of your home via Zoom. Participate from anywhere in the world. (* Check your local timezone here)
This event will offer a Song Critique Session + Music Industry Discussion - focusing on in-the-round song critique where Songsalive! and each other provide feedback and positive critique, sharing insights on how to take your song to the next level. 
Alan Roy Scott will listen and give feedback to your songs and discuss ways American songwriters can try to get more involved internationally in things like K-pop, J-Pop, C-Pop, Eurovision, and song camps.
Come ready with your songs for critique and feedback! 

COST: Free for Songsalive! Members.
RSVPs and details are only available at Songsalive! Backstage for Members
---
 Songshop
We're always looking for great songs and songwriters to fill some pitches. Here's a taste of what's backstage...




---
 Announcing 

Songwriter The Great Southern Songcamp 

🎶
Prize Pool 🏆 valued over AUD $10,000 

If you have a passion for music…have a great song in your head and heart, then it is time for you to enter Songwriter The Great Southern Song Comp. This is your chance to create your own pathway to economic success in the music biz. Open to all ages
TO ENTER go to Song Central's entry platform https://gssc.songcentral.biz and send in your mp3 + pdf lyric sheet (if instrumental include pdf with notes on inspiration behind music)
Deadline to enter  - January 28, 2023
---
The Inner Circle Songwriting Retreat ☀️   
Songsalive! Members receive a 10% discount 
The 9th Annual Inner Circle Songwriting Retreat is taking place on Monday October 3rd-6th 2022, in Ojai California. It is a one of a kind co-writing and performance weekend featuring Multi Platinum, Grammy Award Winning Songwriters, whose songs have been recorded by some of the biggest artists in the world such as John Legend, Black Eyed Peas, Cee Lo Green, Justin Timberlake, Celine Dion, and many more.

The four day retreat is intensive but uplifting, hosted by veteran songwriter Alan Roy Scott, filled with co-writing, master classes, feedback sessions, recording opportunities, performances, group collaborations, breathtaking views, catered meals and connections that will last a lifetime! All levels of songwriters are welcome and all genres of music. Prices range from $1450-$2150 (depending on accommodation preferences). Songsalive! Members get 10% off. 
There are a few spaces left, if you are interested in attending please email: songwritingretreats@gmail.com, or click below. For more details visit: www.songwritingretreats.com

---
Grab Our Swag - Wear Songsalive! 

Support our 501c)3) Non Profit organization and buy a t-shirt or hoodie. All donations are tax-deductible. 
---
Members of the month
Top members of September - Continuing in the tradition of calling out our Members who achieve the highest engagement in our Backstage are, ..... drum roll....


 Keep up the great community engagement!
You could land here if you regularly visit our Songsalive! backstage and engage with your fellow songwriters. 
---
Connect with our Songsalive! virtual community
 and of course, our Members
Backstage
(web and a mobile app)