Rockstar

Greetings to all the wonderful songwriters and composers around the world. And welcome to another edition of Songsalive! Songnotes > our monthly newsletter for everything you need to know about the craft and business of songwriting. 

---
Virtual event THIS SUNDAY October 16th 2022 10AM PST

Join from anywhere in the world in the comfort of your home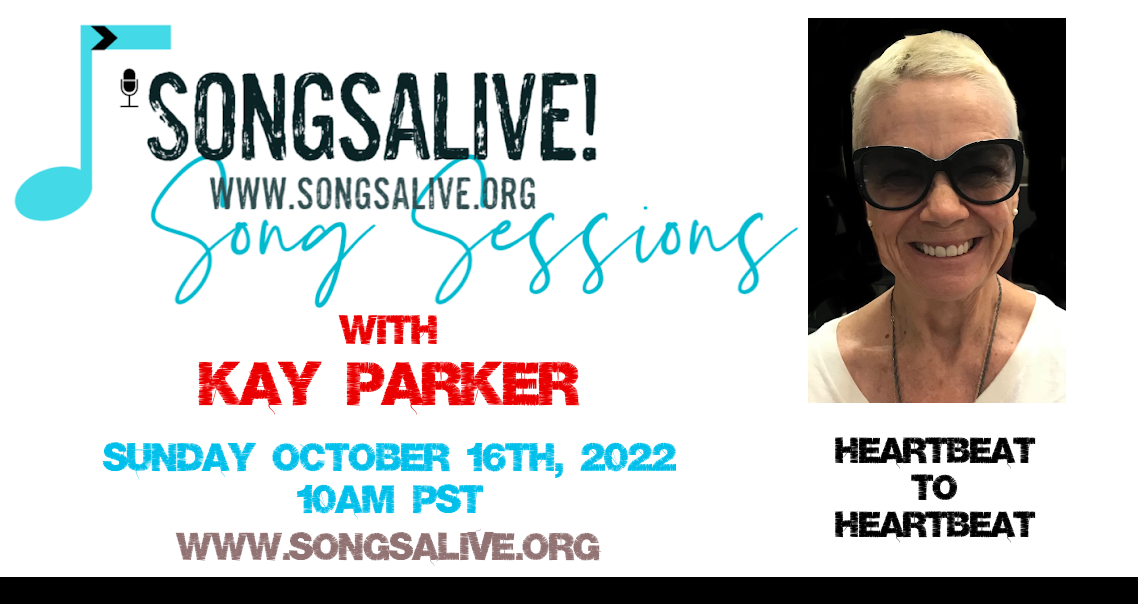 Join us This Sunday October 16th for our October Virtual Song Sessions, get your songs critiqued/workshopped in an intimate, safe online environment, with songwriters from all corners of the globe.
Be Sure to RSVP under EVENTS https://members.songsalive.org/events THIS IS A VIRTUAL EVENT! Attend in the comfort of your home via Zoom. Participate from anywhere in the world. (* Check your local timezone here)
This event will offer a Song Critique Session + Music Industry Discussion - focusing on in-the-round song critique where Songsalive! and each other provide feedback and positive critique, sharing insights on how to take your song to the next level. 
Kay Parker will listen and give feedback to your songs and discuss what the eight beats or moments in a love story are and why you'll never have trouble writing a great love song again.
Come ready with your songs for critique and feedback! 

COST: Free for Songsalive! Members.
RSVPs and details are only available at Songsalive! Backstage for Members
---
 Songshop
We're always looking for great songs and songwriters to fill some pitches. Here's a taste of what's backstage...



---
 Exclusive Offer From Our Partner, ItyDity

 

🎶
Join '𝑭𝒊𝒏𝒅 𝒀𝒐𝒖𝒓 𝑺𝒐𝒖𝒏𝒅 𝑨𝒄𝒄𝒆𝒍𝒆𝒓𝒂𝒕𝒐𝒓' - Songsalive! Members receive $300 OFF 
Before they officially launch, ItyDity is looking for 10 songwriters who can test out *𝑭𝒊𝒏𝒅 𝒀𝒐𝒖𝒓 𝑺𝒐𝒖𝒏𝒅 𝑨𝒄𝒄𝒆𝒍𝒆𝒓𝒂𝒕𝒐𝒓* (with a massive discount exclusively for the Songsalive! community). ItyDity represents 150+ top producers across Nashville, L.A., NYC, London, Sydney and beyond.. & have helped 100's of songs come to life.
*𝑭𝒊𝒏𝒅 𝒀𝒐𝒖𝒓 𝑺𝒐𝒖𝒏𝒅 𝑨𝒄𝒄𝒆𝒍𝒆𝒓𝒂𝒕𝒐𝒓* will take you through literally EVERYTHING you need to know about finding your sound & working w/ producers who understand your creative vision. The program includes 1-on-1 meetings, assessments, & building REAL RELATIONSHIPS W/ PRODUCERS… as well as the COMPLETE PROFESSIONAL PRODUCTION of your music. If you're ready to FIND YOUR SOUND & get your music produced in a way that FEELS RIGHT, this is perfect for you.

A few examples of what you'll get inside 𝗙𝗶𝗻𝗱 𝗬𝗼𝘂𝗿 𝗦𝗼𝘂𝗻𝗱 𝗔𝗰𝗰𝗲𝗹𝗲𝗿𝗮𝘁𝗼𝗿:

✅ Artist blueprinting: learn which instruments, sounds & effects work for your unique style

✅ Articulating your vision: learn to speak the lingo & effectively communicate your sound

✅ Producer Matching & Song Production: work w/ multiple producers on your song & produce your song to match your Artist Sound

✅ This custom 8-week method that has helped tons of songwriters find their sound, build meaningful partnerships w/ producers, get their songs produced, & gain confidence in who they are as artists

👉 For the beta launch of 𝑭𝒊𝒏𝒅 𝒀𝒐𝒖𝒓 𝑺𝒐𝒖𝒏𝒅 𝑨𝒄𝒄𝒆𝒍𝒆𝒓𝒂𝒕𝒐𝒓 they are doing first-come, first-serve. Once the spaces are gone, they're gone. So if you are thinking about it, be sure to book a call with Emily at ItyDity right away! 💥
And remember to use coupon code Songsalive! to get $300 OFF!!
Deadline to ENROLL - October 21st, 2022 

---
Grab Our Swag - Wear Songsalive! 

Support our 501c)3) Non Profit organization and buy a t-shirt or hoodie. All donations are tax-deductible. 
---
Members of the month
Top members of October - Continuing in the tradition of calling out our Members who achieve the highest engagement in our Backstage are, ..... drum roll....


 Keep up the great community engagement!
You could land here if you regularly visit our Songsalive! backstage and engage with your fellow songwriters. 
Welcome New Songsalive! Members