Musical Rockstar

Songsalive! would like to wish you and yours a Happy Holiday Season and a Happy New Year!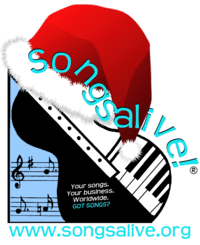 Read on for some great opps, drops, and props from Songsalive! Love you all,..
_____________________________________________________
MUSIC INDUSTRY NEWS
Apple Music gets more focus from Eddy Cue in company reshuffle
YouTube's 10 biggest music videos of 2015
Warner Music boss: 'We're the independent major'
SPOTLIGHT
Songsalive! Sponsored Event: Unsigned Only Music Competition - Deadline: March 16, 2016

 

WHAT IS UNSIGNED ONLY?
Unsigned Only is a unique music competition designed for solo artists, bands, and singers all over the world who are not signed to a major label record company or any of its affiliates, subsidiaries, or imprints. Offering over $100,000 in cash and prizes, the goal of Unsigned Only is to find an outstanding, talented performer that needs to be discovered. Unsigned Only not only offers the Grand Prize winner $20,000 in cash, but also puts them in direct, personal contact with the influential record label executives who are the ultimate decision-makers.
2016 Judges include: Aimee Mann; R. City; The Killers; The Struts; Dustin Lynch; Darryl McDaniels (Run DMC); Hayes Carll; Lucero; and top music journalists from Entertainment Weekly; Paste Magazine; Rolling Stone; Guitar Player; Yahoo Music; Your EDM; NewReleaseToday; LA Weekly; Electronic Musician Magazine; and more to be announced.
For more information or to enter the competition, please visit: http://unsignedonly.com/
For more information on Songsalive! Sponsored Events, please visit: http://www.songsalive.org/sponsoredevents.htm

UPCOMING EVENTS
Tuesday, December 22
New York Songsalive! Showcase & Open Mic
Wednesday, December 23
New York Songsalive! Showcase & Open Mic
Tuesday, December 29
New York Songsalive! Showcase & Open Mic
Wednesday, December 30
New York Songsalive! Showcase & Open Mic
Tuesday, January 5, 2016
New York Songsalive! Showcase & Open Mic
LATEST SONGSHOP LEADS
Click To Read More
________________________________________________________

SONGSALIVE! NEWS
________________________________________________________
CALL FOR PERFORMERS: Songwriters Saturday Night Live (Los Angeles Songsalive!/SongNet)


CALL FOR ARTISTS FOR JANUARY 30TH
Songwriters Saturday Night Live
Hosted by Songsalive! president gilli moon, and Songnet president Jimi Yamagishi. Stick out your tongue to taste the talent!  Open Mic after featured set.
WHEN: SATURDAY, JANUARY 30THWHERE: THE CORK LOUNGE
5043 Van Nuys Blvd, Sherman Oaks, CA 91403
(Just north of the 101 on the West side of street, adjacent to Corky's Restaurant)
TIME:
Doors open 6.30pm. Show starts 7pm with featured performers.
Open Mic  after the featured slot (must sign up by 7.30pm)
COST: FREE entry!
Donations welcome to support our non-profit efforts. Open to the public.
The Venue has great diner and bar food, and of course great drinks – happy hour all night.
******************************
SHOWCASE:
Looking for solo artists and bands to perform at our January 30th Los Angeles showcase.
APPLY TO PERFORM AT A FUTURE SHOWCASE to be considered as FEATURED ARTIST, promoted to 20,000+ music fans
www.songsalive.org/group/losangeles
www.songsalive.org/showcases.htm
(or go to our website songsalive.org, click on Programs / showcases)
Please read the criteria carefully. Songsalive! Pro Members & SongNet members need only apply. Join today at
www.songsalive.org/join.htm
**************************************************************
This Songwriters showcase is a joint effort between:
Songsalive! - The largest international non-profit membership organization and social community for songwriters and composers, since 1997.
www.songsalive.org
Songnet - a network of career-minded songwriters, musicians, artists, and music industry professionals supporting each other through network events, seminars, showcases, and collaboration.
www.thesongnet.org
________________________________________________________
________________________________________________________
FROM THE

Happy Holidays and Happy New Year!!!
Thank you from Songsalive!

Mary Lemanski
Director of Operations

Gilli Moon
President