Rockstar

Welcome to another edition of Songsalive! Songnotes >  our newsletter for everything you need to know about the craft and business of songwriting. 
Songsalive! acknowledges our responsibility to speak up and be committed to the safety and respect of our Black songwriter members, friends, families, and partners. As a voice for artists and songwriters in the music industry, Songsalive! recognizes and is committed to supporting Black voices and we stand beside them in defiance of the unjust treatment, prejudice, discrimination, and murders of Black people in the U.S.A and worldwide. Songsalive! Is a non-profit 501c)3) public benefit charity, and our mission is to support, promote and educate ALL songwriters and composers globally without prejudice. We will continue to be committed to our efforts and we send love to everyone during this arduous time.
In our monthly newsletter - we have new Songshop leads - pitch your songs to our publisher friends. As a continual to support the current climate of social distancing and our community support the reduction of the Coronavirus (COVID-19), we continue to cancel any in-person events for June. Instead we are expanding our ways to bring us all together through our virtual programs and platforms. See below. We continue to bring our songwriters and composers virtually together for community, learning and collaboration and no better time than to congregate (safely from home) so we can feel 'united'. Let's unite through Music! We're posting daily with each other -  Stay connected backstage: https://members.songsalive.org.
Take care, stay safe, and stay creative. Your creative voice is very important during this time.
We continue to provide an exclusive opportunity to our newsletter readers our membership rate at 1/4 of the cost (only $25/yr for new songwriters) to help those financially limited but want to stay connected within our awesome Songsalive! Nation. We want to be there for you, so we've made it possible for you to be with us at a temporary discount, during these unprecedented times. 
Join at our special $25/yr membership today
Upcoming Songsalive! Virtual Event this Sunday June 7th - Free** for Members   
The Songsalive! Song Sessions - Virtual Event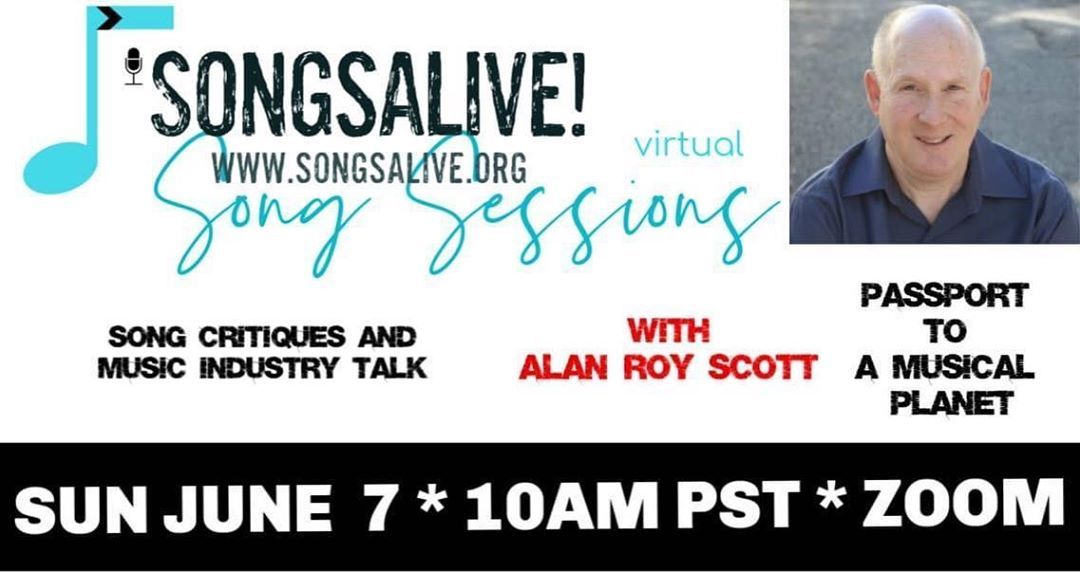 On Sunday June 7th, 10am PST* Songsalive! continues their 20 year success of advancing songwriters and composers worldwide. Are you a songwriter willing to take your songs to the next level? Workshop your songs to be the best they can be, to showcase them to the world. THIS EVENT IS A VIRTUAL EVENT! Attend in the comfort of your home.
Participate from anywhere in the world. (* Sunday June 7, 10am PST - Check your local timezone here)
Hosted by the Songsalive! Team, Gilli Moon, Rik Lawrence and Rod O'Riley , The Songsalive! Song Sessions are open to our Members worldwide and is open to songwriters, composers, lyricists and music creators of original music. The first part - Song Critique Session - focuses on in-the-round song critique where Songsalive!, the special music industry guest speaker in attendance, and each other provide feedback and positive critique, sharing insights on how to take your song to the next level. See below on how to prepare.
The second part - Songwriter Veteran Alan Roy Scott, talks about "Passport To A Musical Planet".... The life, times, and opportunities (including Eurovision) of a Global songwriter in 2020 pre & post Covid-19. 
Alan will discuss various avenues and opportunities for having an international career including various songwriting camps, pitching & writing for artists internationally (such as K-Pop, J-Pop, & C-Pop), writing English lyrics for non-English speaking situations, and unique situations like Eurovision.
Come ready with your songs for feedback and create long lasting relationships in the songwriting community. Songsalive! is your songwriters squad!
COST:

Free

for Songsalive! Members.
RSVPs and details are only available at Songsalive! Backstage for Members
**JOIN AS A MEMBER
at our special current offer of $25/yr and attend all our events for free
 ==>More on the Songsalive! calendar<== 
Songshop
We're looking for great songs and songwriters to fill some pitches. Here's a taste of what's backstage...
Songshare - Get Constructive Feedback On Your Songs
 ❤️🔥Create a new POST
backstage
with your 
most recently written song
 - include lyrics and a link to listen + write what kind of feedback you are needing - and our Community will Comment on the post with your feedback and critique.
 

Songsalive! Songcraft - Collaborating Virtually with Gilli Moon
 New 🎬Video Available for YOU 🎉
Learn about 'Collaborating Virtually' through our latest Songsalive! Songcraft Video, available online in our Backstage, where you can watch at your own time, at your own pace in your living room.
We've captured her talk on video for our members wherever you are in the world, where you can watch it on demand in your own time, at your own pace. 
About Gilli Moon
Gilli Moon is also known as the  "voice for artists", having created a global community of devoted followers, empowering artist entrepreneurs, songwriters and musicians, inspired by her unprecedented DIY artist success and her unparalleled expertise.  She has become a beacon for others inspired by her story, motivated by her passion, her 'can do' attitude, and her creativity. Gilli has helped artists and creative seekers get engaged, feel enlightened, and become empowered towards a music career they've always imagined. A community builder, inspired to make a difference in the music industry for songwriters, Gilli has presided over Songsalive! for 20 years. Go friend her on Songsalive! Backstage here

Members of the month
Top members of May - Continuing in the tradition of calling out our Members who achieve the highest engagement in our Backstage are, ..... drum roll....
Keep up the great community engagement!
You could land here if you regularly visit our Songsalive! backstage and engage with your fellow songwriters.
Welcome New Songsalive! Members
Remember
Join at our special $25/yr membership today - save $75 :) :) We Love You All
 and of course, our Members
Backstage
(web and a mobile app)