Rockstar

Greetings to all the wonderful songwriters and composers around the world. And welcome to another edition of Songsalive! Songnotes > our monthly newsletter for everything you need to know about the craft and business of songwriting. 
In this edition, we talk about the Mar 19th Songsalive! Songwriters' Workshop (formerly titled Song Sessions), the winner of the 2022 Songsalive! Songwriter of the Year award, an exclusive partner offer for Songsalive! members, and our Songsalive! program spotlight: Songcraft Learning.
All below, read on!
Virtual event THIS SUNDAY March 19th 2023 10AM PST

Join from anywhere in the world in the comfort of your home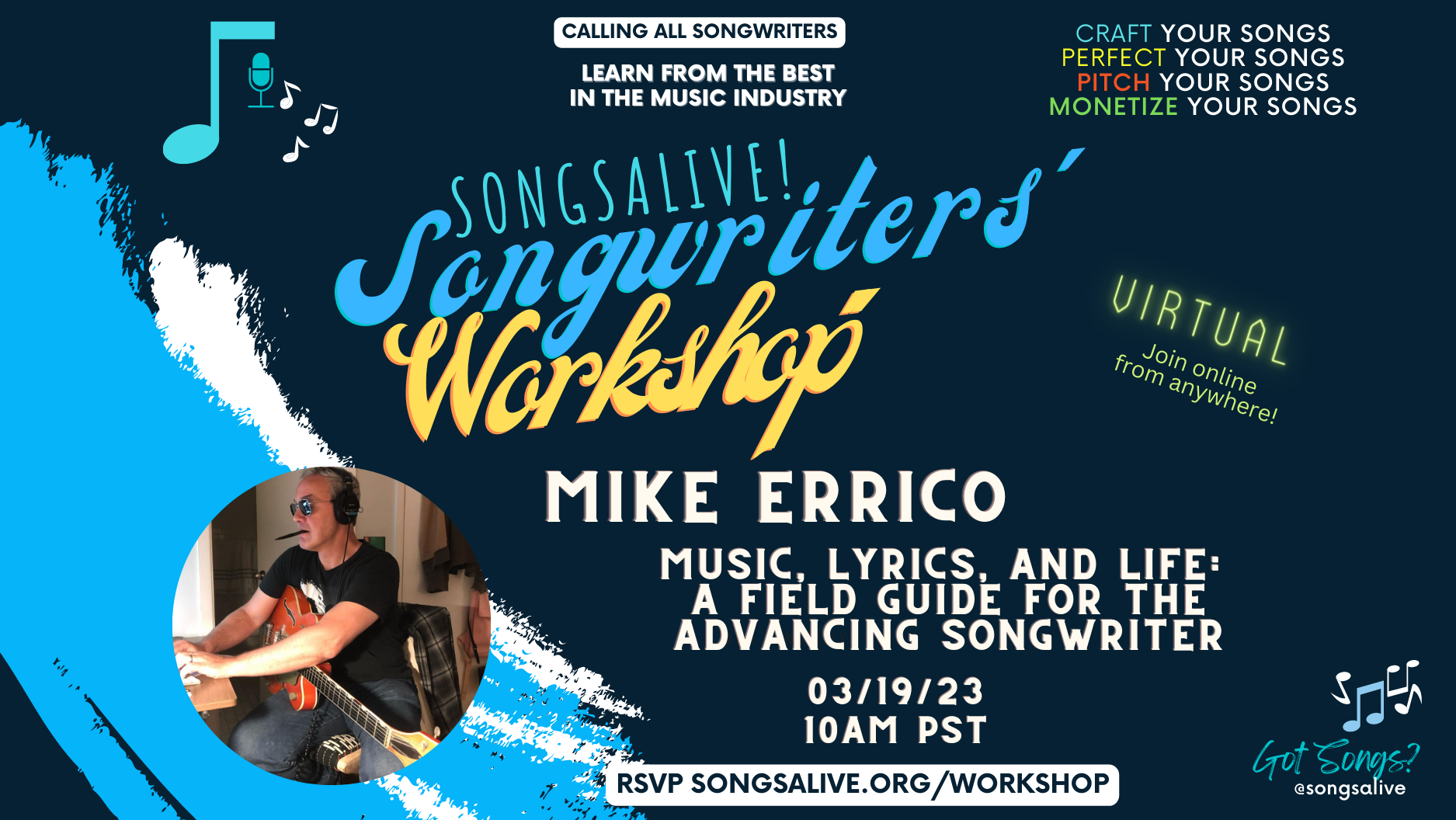 Join us Sunday March 19th for our March Virtual Songwriters' Workshop, get your songs critiqued/workshopped in an intimate, safe online environment, with songwriters from all corners of the globe.
Be Sure to RSVP under EVENTS https://members.songsalive.org/events THIS IS A VIRTUAL EVENT! Attend in the comfort of your home via Zoom. Participate from anywhere in the world. (* Check your local timezone here)
This event will offer a Song Critique Session + Music Industry Discussion - focusing on in-the-round song critique where Songsalive! and each other provide feedback and positive critique, sharing insights on how to take your song to the next level. 
Mike Errico will listen and give feedback to your songs and share a series of tools to help you progress as a songwriter.
Mike Errico is a New York-based recording artist, writer, and lecturing professor who has built his name on the strength of critically acclaimed releases and extensive composition for film and TV. He teaches songwriting at universities including Yale, Wesleyan, the New School, and NYU's Clive Davis Institute of Recorded Music. He was nominated for 2019's David Payne-Carter Award for Excellence in Teaching, and taught the 2022 GRAMMY® Museum's inaugural Summer Sessions in New York City. 
Come ready with your songs for critique and feedback! 
COST: Free for Songsalive! Members.
RSVPs and details are only available at Songsalive! Backstage for Members
---
The Winner 🏆 is... 
Announcing the 2022 Songsalive! Songwriter of the Year award winner - Richard "Doc" Wainess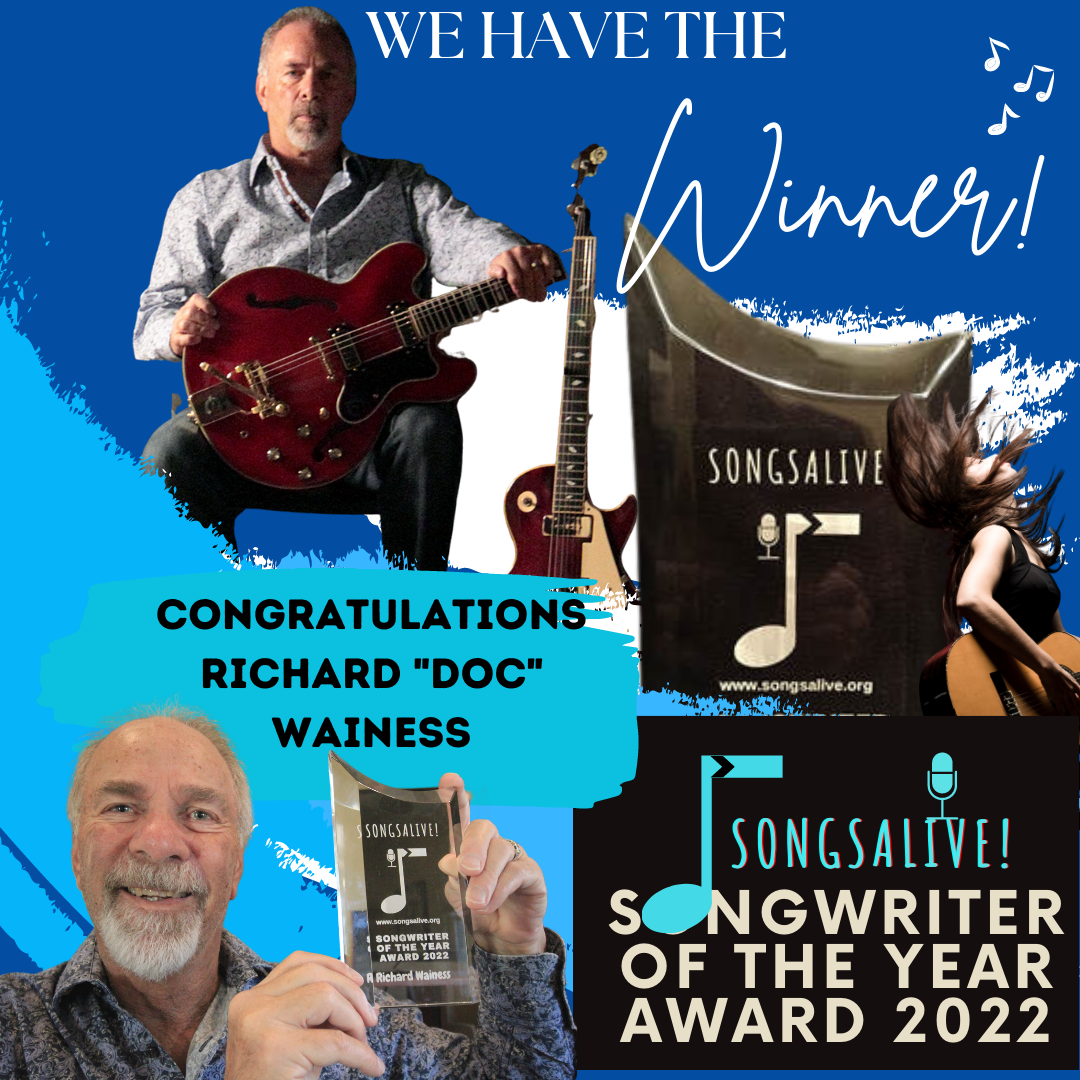 Songsalive! honors one songwriter each year with the Songsalive! Songwriter Of The Year Award, to a songwriter who shows exemplary talent and commitment to one's art of writing songs and the community around them.


Richard earns this prestigious award because of his:
community contribution - valuable team member of Songsalive! His approach with the other songwriters is exceptional, volunteering for our events as well as being a bright example of a Songsalive! member, as well as in his local community.
songwriting commitment - Richard displays strong commitment to his craft of writing. Every Songsalive! Workshop he is ready to hear feedback and develop his songs to their best. We see how his songs have evolved based on his commitment to his craft.
great songs - excellent craft and wonderful songs that he consistently shows to Songsalive! and releases to the world.
Read about Richard & the Award
---
 Songsalive! Program Spotlight
Songcraft Learning 🎬
Watch videos on the songwriting biz 24/7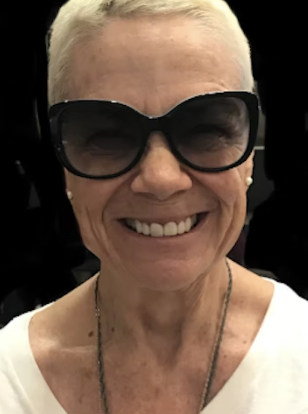 Songsalive! Presents - Do This, Not That: How to Start an Effective Collaboration - with Ex Motown Songwriter, Kay Parker. Watch this On-Demand Video as Kay Parker shares 10 Top co-writing mistakes, both business wise and creatively from a first hand perspective. We've captured her talk on video for our members wherever you are in the world, where you can watch it on demand in your own time, at your own pace.
More about Songsalive! Songcraft: Self-service access to some of the best songwriting and music biz articles as well watch videos-on-demand from our Master teachers who have spoken at our live events. Watch any time from anywhere at your own pace. Topics include songwriting structure, lyric writing, songwriting opportunities overseas, publishing, producing, getting songs placed in Film and TV, and so much more. Plus, we offer a multitude of training videos and podcasts that inspire, uplift and engage you. New videos added regularly. More Songcraft content is added the longer you remain as a member. 
Watch Backstage on Songsalive!
Grab Our Swag - Wear Songsalive! 

Support our 501c)3) Non Profit organization and buy a t-shirt or hoodie. All donations are tax-deductible. 
---
Members of the month
Top members of March - Continuing in the tradition of calling out our Members who achieve the highest engagement in our Backstage are, ..... drum roll....


 Keep up the great community engagement!
You could land here if you regularly visit our Songsalive! backstage and engage with your fellow songwriters. 
Welcome New Songsalive! Members