Rockstar

Greetings to all the wonderful songwriters and composers around the world. And welcome to another edition of Songsalive! Songnotes > our monthly newsletter for everything you need to know about the craft and business of songwriting. 
In this edition, we talk about announcing the winner of the 2022 Songsalive! Songwriter of the Year award, RSVP for Feb 19th Songsalive! Song Sessions (Song Critique Workshop), and our Songsalive! program spotlight: Songshare. All below, read on!
Virtual event THIS SUNDAY February 19th 2023 10AM PST

Join from anywhere in the world in the comfort of your home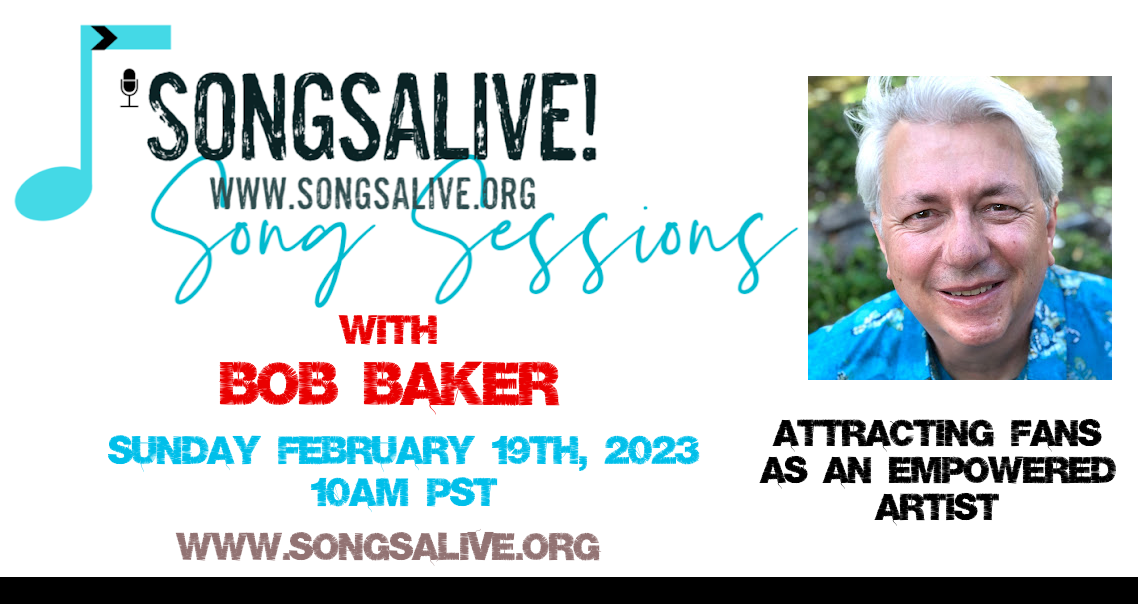 Join us Sunday February 19th for our February Virtual Song Sessions, get your songs critiqued/workshopped in an intimate, safe online environment, with songwriters from all corners of the globe.
Be Sure to RSVP under EVENTS https://members.songsalive.org/events THIS IS A VIRTUAL EVENT! Attend in the comfort of your home via Zoom. Participate from anywhere in the world. (* Check your local timezone here)
This event will offer a Song Critique Session + Music Industry Discussion - focusing on in-the-round song critique where Songsalive! and each other provide feedback and positive critique, sharing insights on how to take your song to the next level. 
Bob Baker will listen and give feedback to your songs and share his tips for effective music marketing and attracting fans. 
Bob is an author, speaker, and musician dedicated to showing artists of all kinds how to get exposure, connect with fans, sell more music, and increase their incomes. He is the author of the highly acclaimed "Guerrilla Music Marketing Handbook" and runs a popular YouTube channel that features spoken-word affirmations and music.  
Come ready with your songs for critique and feedback! 
COST: Free for Songsalive! Members.
RSVPs and details are only available at Songsalive! Backstage for Members
---
 Songsalive! Program Spotlight: Songshare 🎵

Gain feedback on your original songs by posting in Songshare for others to provide critique any day of the week.
Songshare is all about feedback. Gaining feedback on your songs is integral to the growth of a successful songwriter. It doesn't matter if you are a beginner or a seasoned pro, we can all use positive, constructive feedback to always be better.
Here's how to take advantage of Songshare, your Members Benefit:
Log In to Songsalive! Backstage
Go to Songshare - Space under Menu
Create a new post 
Add a link where your song can be heard online (direct url - we encourage using a site like Soundcloud or Reverbnation or Google drive to host your mp3)
Add lyrics (if a song versus instrumental) link or copy/paste the lyrics in the post
Write what kind of feedback you are looking for (song structure, lyric, music, or otherwise)
Post! Everyone else comments 
Go brush off a dusty song or write that new one and post in SongShare now!
Grab Our Swag - Wear Songsalive! 

Support our 501c)3) Non Profit organization and buy a t-shirt or hoodie. All donations are tax-deductible. 
---
Members of the month
Top members of February - Continuing in the tradition of calling out our Members who achieve the highest engagement in our Backstage are, ..... drum roll....


 Keep up the great community engagement!
You could land here if you regularly visit our Songsalive! backstage and engage with your fellow songwriters. 
Welcome New Songsalive! Members