Rockstar
Welcome to another edition of Songsalive! Songnotes >  our newsletter for everything you need to know about the craft and business of songwriting.  This month we are
Searching SINGER/SONGWRITERS to perform at our Los Angeles (new) and Orange County Events. Plus NY and Chicago.
Ready to kickoff our new LA Song Sessions

this Monday night

as LA's best new songwriters MIXER. See below.
Searching songs for our latest TV, FILM pitches (See Songshop below)

Offering Song Critiques of Your Songs every day
Showcasing our New Members and Member of The Month, Donny Grace
We love hearing from you so please share your posts Backstage.

Or find us on Facebook - Page / Group, Instagram and Twitter.   
Join or Login to Songsalive! Today
Upcoming Songsalive! Featured Events   
LOS ANGELES, CA - NEW!
THE SONG SESSIONS - The Songwriters' Mixer
Learn  from Panel of music industry professionals | Get your SONG critiqued | and PERFORM at the Open Mix.1st Mondays of the month.
🎧 Listen and learn from Panel of celebrated singer/songwriters about 'LA singer/songwriter successes and stories' | Get your SONG critiqued by music biz | and partake in the songwriters open mic - come with your original songs 🎹 🏍🚲🛴

Talk Session at 6pm includes a special FABULOUS PANEL OF LEADING LA BASED SINGER/SONGWRITERS who will share their insights in a UNIQUE PANEL DISCUSSION on FINDING SUCCESS AS A SINGER/SONGWRITER IN LOS ANGELES, with Stacy Robin, Jimi Yamagishi, Betsy Jill Jackson, Gilli Moon.

Followed by SONG CRITIQUE, OPEN MIC.
WHEN: First Mondays Of The Month 
NEXT: MONDAY, March 2nd, 2020
START TIME: 6:00pm - 10:00pm (Panel and Critique is at 6pm and all open mic-ers must sign up at 6pm to be considered for the later Live session)

WHERE: Elevation Bar & Lounge
5248 Van Nuys Blvd. Sherman Oaks (Los Angeles), California.
North of Magnolia Blvd.
Host Rik Lawrence
and join the Songsalive! LA Squad  
Apply To Showcase
 

ORANGE COUNTY, CA 
ORANGE COUNTY SONGSALIVE! SONGWRITER SHOWCASE
Listen to original music by two of our amazing singer/songwriters!

WHEN: SECOND TUESDAYS OF THE MONTH
NEXT: Tuesday, March 10th, 2020
TIME: Starts 7:30 PM.

WHERE: SAM ASH MUSIC STORE
14200 Beach Blvd.
Westminster, CA 92683

Singer-Songwriters: Hey! We're looking for performers to take part in the Songsalive! Orange County Songwriter Showcase on Tuesday, March 10th or Tuesday, April 14th. Always 7:30 pm at Sam Ash Music Store (in Westminster, CA). 6 songs or 30 minutes. Message me for details.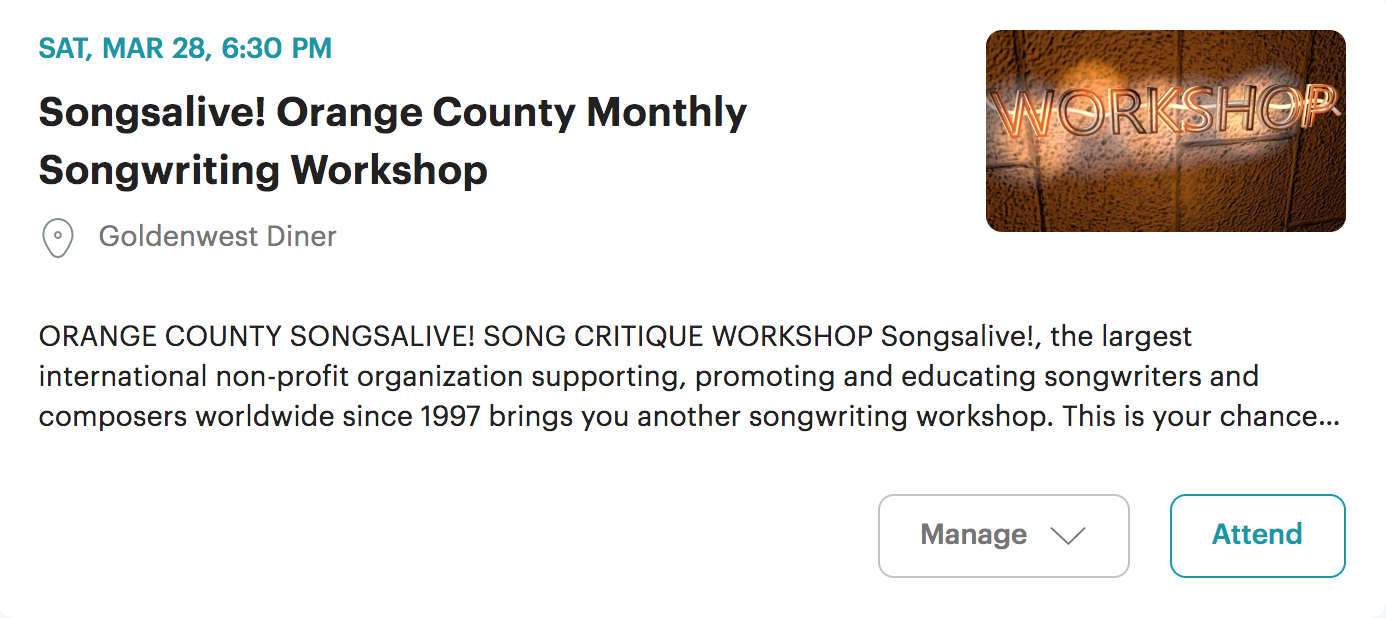 Host Rodney O'Riley
and join the Songsalive! OC Squad 
Apply To Showcase 
SONGSALIVE! OPEN MIC CHICAGO IL
Monthly on the First Thursday
@Jesse's Tavern
10501 S Ridgeland Ave, Chicago Ridge, IL 60415, USA
6.30pm - 9.30pm
Host, David Keeney

NEW YORK

SONGSALIVE! OPEN MIC NEW YORK NY
Songshare - Get Constructive Feedback On Your Songs
 ❤️🔥Create a new POST
backstage
with your 
most recently written song
 - include lyrics and a link to listen + write what kind of feedback you are needing - and our Community will Comment on the post with your feedback and critique.
We're looking for great songs and songwriters to fill some pitches. Here's a taste of what's backstage...
Member of the month
Top member of March - Continuing in the
#1 spot
is Donny Grace! 
Keep up the great community engagement
You could land here if you regularly visit our Songsalive! backstage and engage with your fellow songwriters.
Welcome New Songsalive! Members