Rockstar

Welcome to another edition of Songsalive! Songnotes >  our newsletter for everything you need to know about the craft and business of songwriting.  We are excited to be teaming up with Dulcetterra Festival on Sept 21 for a magical day of music and songwriting. See below on how you can get involved in the Virtual Songcamp and enjoy the festival.
This month because of the Songcamp we will skip Monthly Song Sessions and back on track for October onwards.
Lots of meaty opportunities in our Members Backstage - pitch your songs to film and television, gain daily feedback on your songs, and join the Ambassador club for key promotion
---
September SONG

CAMP

Event
WHAT: Dulcetterra Songsalive!® Song Camp
WHEN: Monday, September 21 | 3-6PM PST | 4-7 PM MST 

Extended Deadline to apply for this unique virtual co-writing event - THIS MONDAY Sept 7, in 2 days. Hurry!

APPLY:  Songsalive! members apply Backstage to skip to preferred list, Or ALL APPLY to be considered Directly Here

Gilli Moon and Songsalive!®, in the songwriting camp, joining forces with non-profit festival, Dulcetterra, 
where you are paired up with another songwriter to co-write a song in an extreme timeboxed window, culminating in a live performance at the end of the day
. Gilli has been running Songsalive!® and Songcamps for over 20 years, and is excited to introduce this as part of the inaugural Dulcetterra Festival. The camp is limited to 25 songwriters and you can be a lyricist, musician, singer, or all to participate. Diversity welcome. To be considered as a participant, please complete the form on this page above.
Deadline for submissions is
Monday, September 7th
. Selected artists will be notified by Monday, September 14th. Selected songwriters, lyricists, musicians and singers will be placed into groups based on talent and craft.  More info. 
THIS IS A VIRTUAL ZOOM EVENT!     Get Your Co-Writing On!
---
Songshop
We're always looking for great songs and songwriters to fill some pitches. Here's a taste of what's backstage...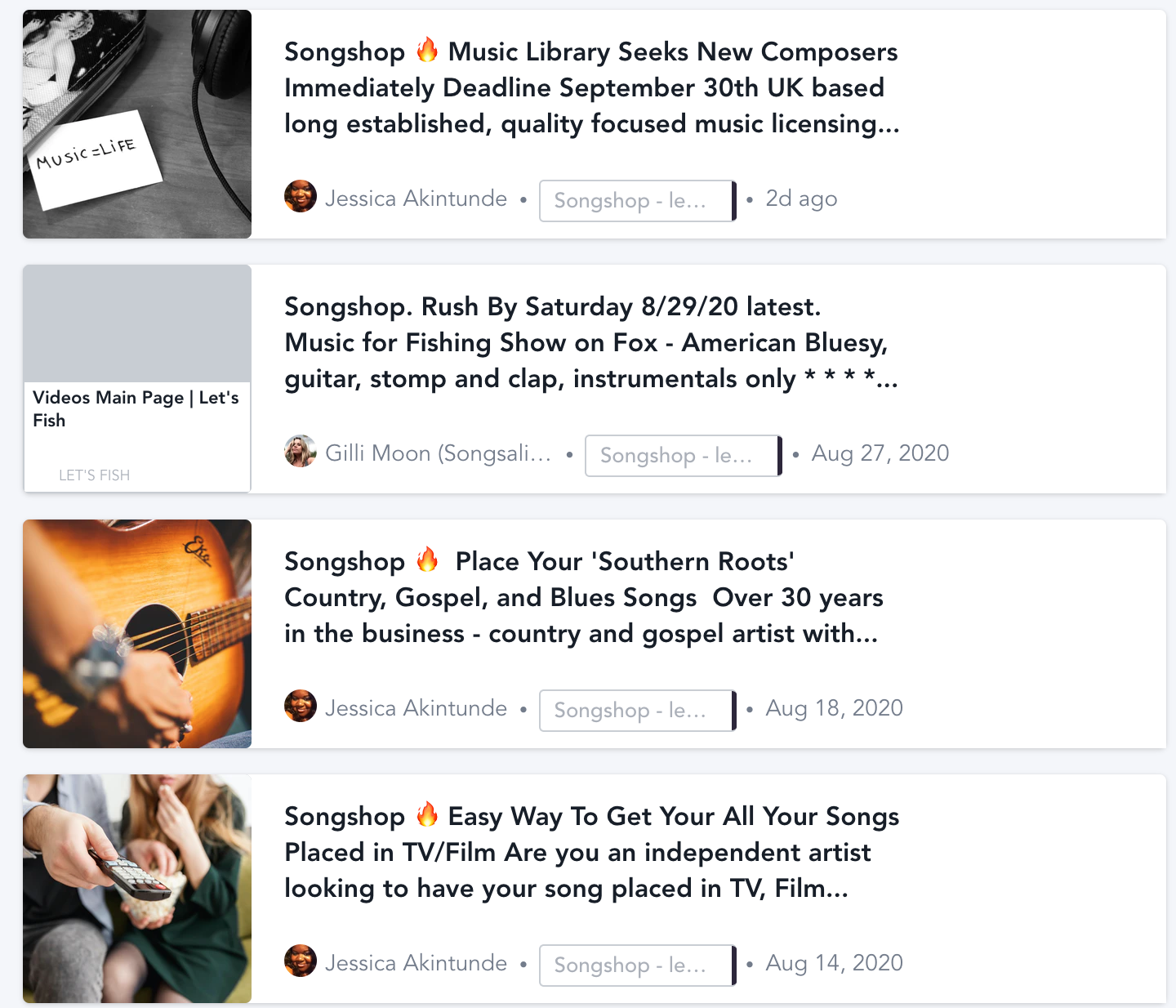 ---
Introducing Courses!
Add on to your memberships subscription with some cool courses to up your craft.
---
Songshare
❤️🔥Get Constructive Feedback On Your Songs Daily
 Create a new POST
backstage
with your 
most recently written song
Include lyrics and a link to listen + write what kind of feedback you are needing
And your Songwriting Community will Comment on the post with your feedback and critique.
Members of the month
Top members of September - Continuing in the tradition of calling out our Members who achieve the highest engagement in our Backstage are, ..... drum roll....


 Keep up the great community engagement!
You could land here if you regularly visit our Songsalive! backstage and engage with your fellow songwriters.
Welcome New Songsalive! Members

---
Sponsoring
---
Connect with our Songsalive! virtual community
 and of course, our Members
Backstage
(web and a mobile app)